Home
> Events and Activities > Upcoming Workshops
Upcoming Workshops
Assessment Workshops by Jan Chappuis
All assessment workshops are online, from 9am to 12.30pm. You can choose to attend one or several workshops by paying the appropriate registration fees for each workshop.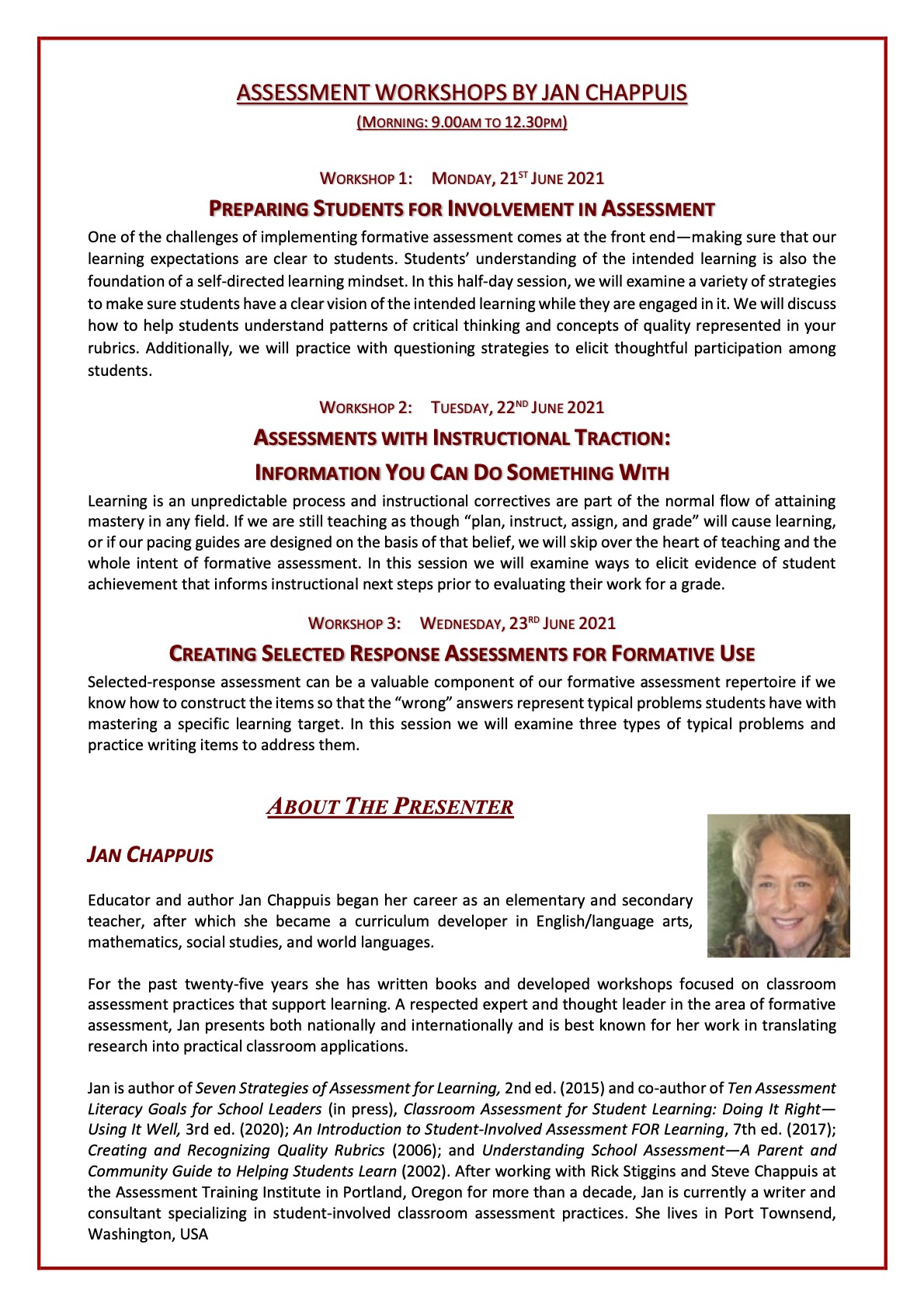 ********************
Good Questions - Inquiring Minds Workshop

by Erik Francis
All workshops are online, from 2pm to 5pm. These are three independent, subject-specific workshops.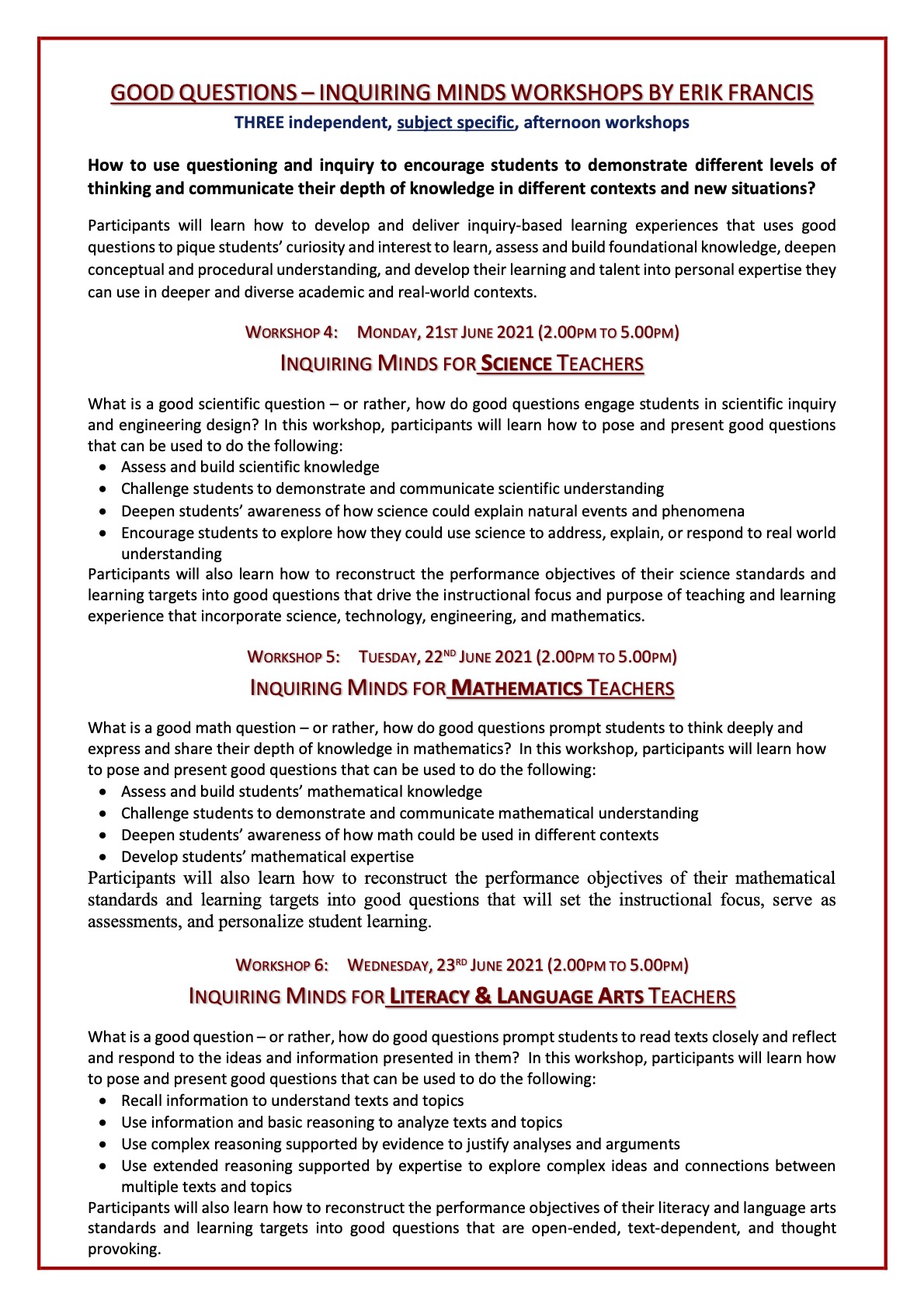 A Workshop by Dr Wong Lung Hsiang

We have just been able to finalise the workshop on Blended Learning by Dr Wong Lung Hsiang.
This workshop is specially for upper primary and lower secondary teachers.

We suggest that you have two or three teachers sign up so that they can start preparations offline before and during the break between sessions.
The workshop is split into two sessions: 31st May and 4th June 2021. Both sessions will be from 9am to 12pm. Participants must attend both sessions to complete the workshop.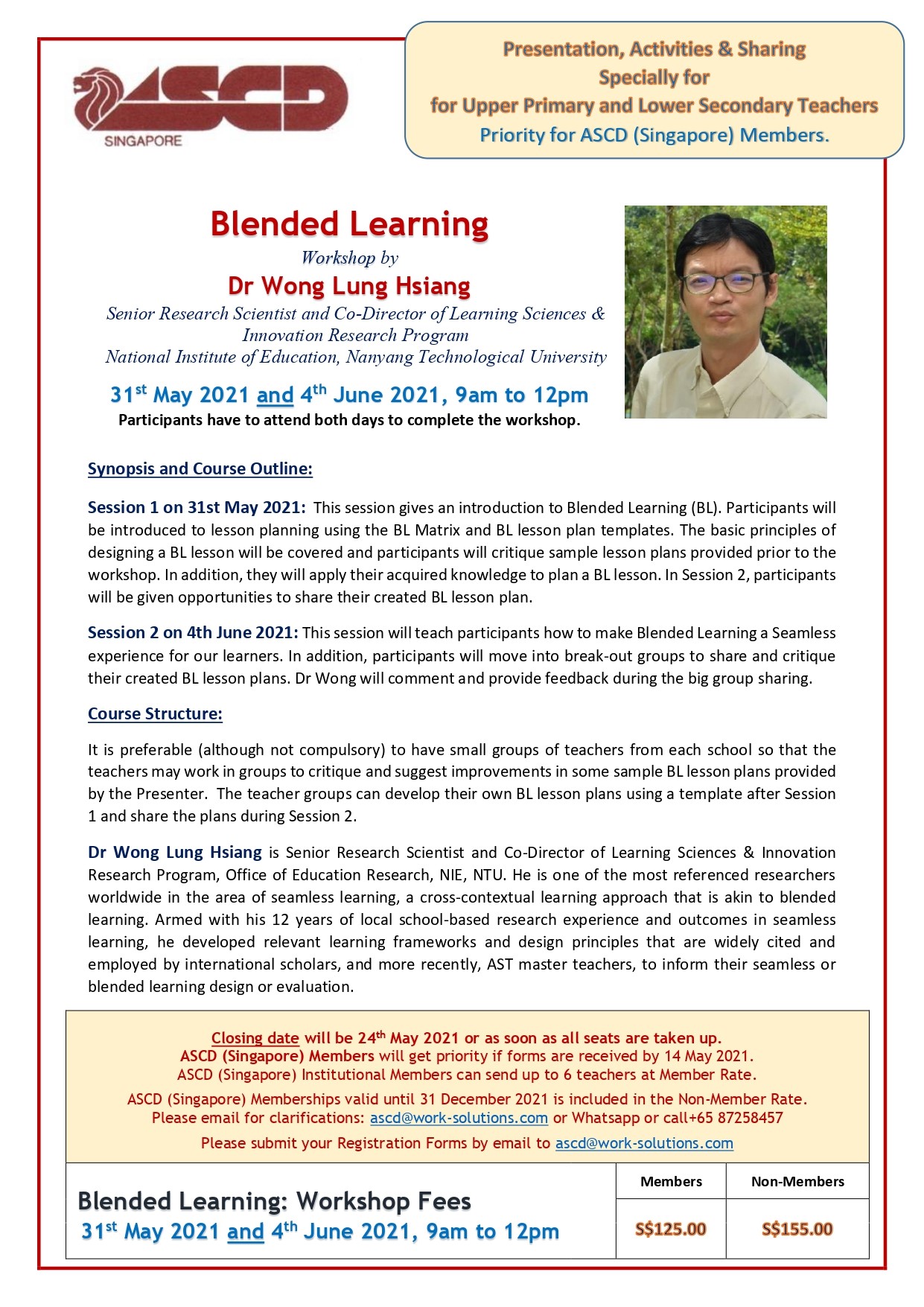 ---
Workshop in March 2021
Noticing to Feed Forward in Mathematics Teaching
(For primary and secondary school teachers)
26 March 2021 (Friday), 3-5pm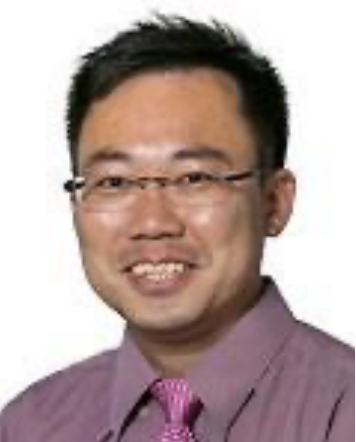 By Asst Prof Choy Ban Heng
(National Institute of Education, Nanyang Technological University)
How can teachers attend to mathematical details embedded in students' work? How can we analyse students' thinking to make instructional decisions that enhance students' learning? In this interactive online workshop on Teacher Noticing, we will focus on developing an awareness of how teachers can build teaching expertise by learning to attend to and interpret instructional details to making instructional decisions.
At the end of the workshop, participants should:
1. Know the different components of teacher noticing;
2. Be aware of what and how to notice students' thinking from their work; and
3. Use what they have noticed to improve their teaching
Click
here
for more details about the workshop.
Dr Choy Ban Heng, a recipient of the NIE Overseas Graduate Scholarship in 2011, is currently an Assistant Professor in Mathematics Education at the National Institute of Education (NIE). Prior to joining NIE, he taught secondary school students Mathematics for more than ten years, and held the position of Head of Department (Special Projects) before he joined the CPDD in MOE as a Curriculum Policy Officer.