Home
> Events and Activities > Upcoming Workshops
Upcoming Workshops
---
Hello!
2nd Run of Workshop
Supporting Students with Dyslexia by Kimberly Loong
On 14th April 2023
As promised, we have organised the 2nd Run of this workshop due to the overwhelming response. Information you need is in the flyer below. Registration Form is here: Registration Form. Please do submit as soon as possible as we expect the places to be snapped up quickly.
Quotes from participants of the 1st Workshop on 13th March 2023:
Sharing of good practical teaching strategies which EL teachers can bring back to the classroom to help my students. Helps me understand more than dyslexia.
Diana Chua, Peirce Secondary School
Practical examples provided through sharing of the types of resources used to hone their skills plus Kimberly's and her son's honest sharing were very heartfelt and insightful in helping me to understand how to support my students, appreciate the challenges faced and articulate clearly my students' learning needs/support to my college. It is also very encouraging.
Malarvizhi Haugen, Anderson Serangoon Junior College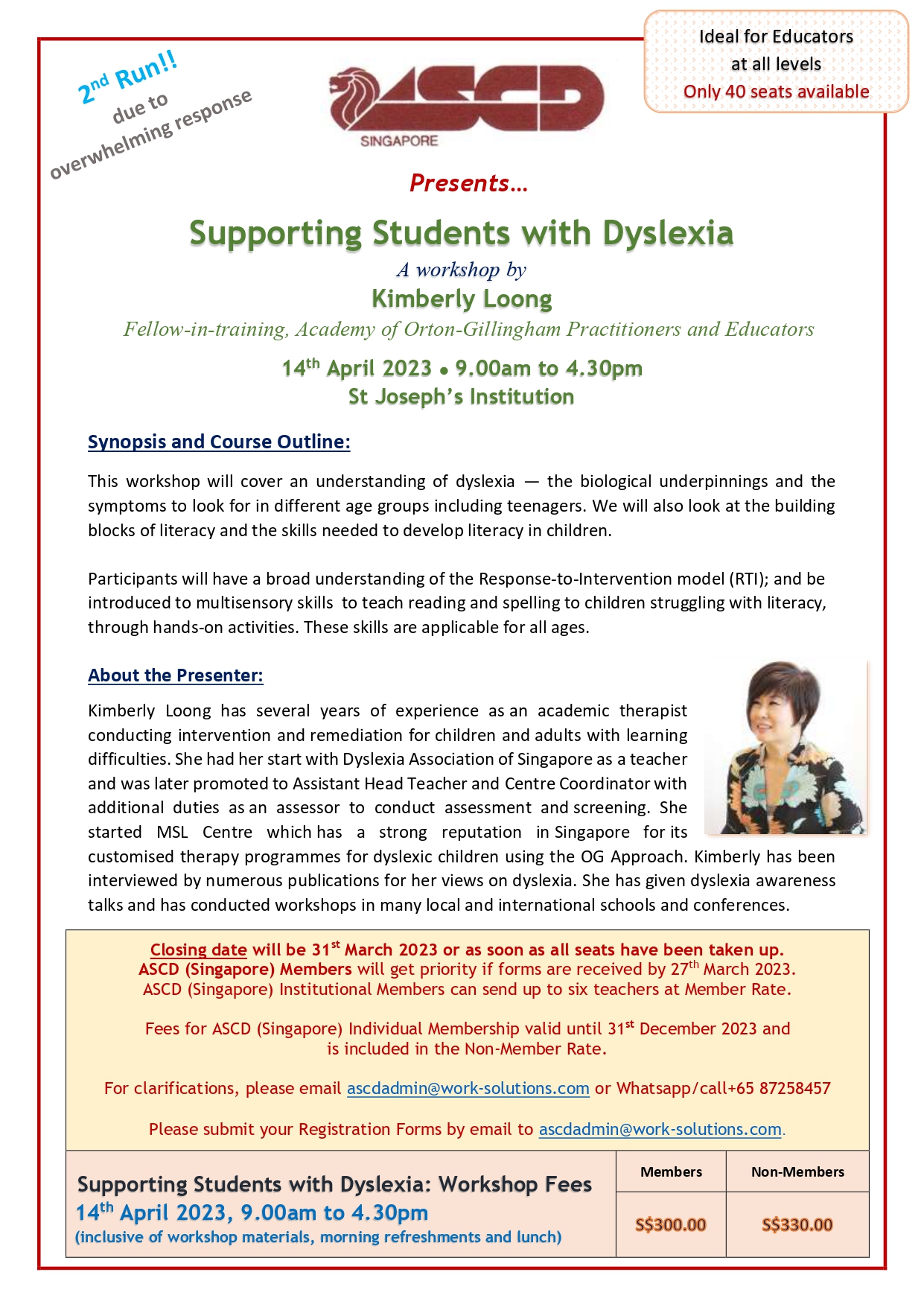 ********************

Here are some of the exciting events that we have planned for 2023!
Details will be shared here when they are available.
********************

School Environment
- How do we continue to remain effective in the classroom amidst rapid changes around us?
- How do we engage a new generation of students who feel entitled but continue to have learning needs?

- How do we achieve outcomes that are consistent with the investment of our time and efforts?
Heads of Department, Subject Heads and Classroom Teachers face the above challenges daily. In this half-day workshop, participants will get a better understanding of the changes taking place in the external and internal environments in our schools. Using diagnostic tools, participants will be able to identify some of the underlying issues that are not always apparent to busy individuals. Participants will appreciate the value of unearthing students' aspirations, generating conversations and understanding complexities through the Leadership Insights Framework™ above. Participants will also discuss actively the Seven Strategies to EMBRACE Complexities™.
The registration form can be downloaded here:
Registration Form
. Please email to
ascdadmin@work-solutions.com
if you need more information. See you soon!